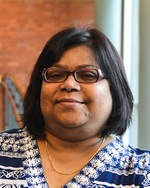 Contact
RUPASRI MANDAL (Research Associate/Project Manager of TMIC) received her PhD in environmental analytical chemistry from Carleton University, Ottawa, Canada, in 2001, and during this research she developed several novel schemes and analytical techniques for kinetic speciation of trace metals in freshwaters such as voltammetry, GFAAS and ICP-MS. Her post-doctoral research work (2002-2005) in bioanalytical/biomedical chemistry in the Department of Public Health Sciences at the University of Alberta focused on the development of analytical techniques and methodologies to study drug-protein interactions. During this time, she developed a combined analytical approach based on nanoelectrospray tandem mass spectrometry (QStar) and size-exclusion HPLC/ICP-MS to study drug-protein interactions. She also developed and used several other bioanalytical methods for protein-adduct analysis such as LC-MS, gel electrophoresis, protein digest and proteome database. 
From 2006-2008, she worked as the project coordinator for the Human Biomonitoring Project in the Department of Public Health Sciences at University of Alberta. She joined Pan-Alberta Metabolomics Platform team (Wishart group) in August 2008, and was involved in developing analytical methods (GC-MS, HPLC-ELSD, and LC-MS) for identification and quantification of water-soluble metabolites and lipids in biofluids and plant materials. 
Since 2011 she is working as the Project Manager for The Metabolomics Innovation Centre (TMIC). Her responsibilities include managing TMIC's facility personnel and their activities, identifying and reporting on new metabolomic technologies, coordinating and conducting the development and adaptation of new metabolomic technologies, training new staff on how to properly use TMIC equipment, communicating with TMIC clients, analyzing/checking client metabolomic data and preparing status reports for clients, assisting TMIC directors with the preparation of grants, contracts and scientific publications, assisting TMIC directors and staff with core facility budget planning, equipment and supply purchases and preparing client invoices.